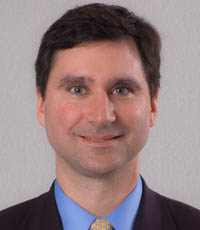 Dr. Thomas earned a Bachelor's Degree in Biomedical Engineering at The Johns Hopkins University, a Master's Degree in Environmental Health Sciences at New York University and a Medical Degree at SUNY Stony Brook on Long Island.  He completed his medical internship at Georgetown's Washington Hospital Center and his Ophthalmology residency at the Drexel University/ Hahnemann Hospital in Philadelphia.  He joined the Center for Eye Health in 2007.
 
Dr. Thomas is a Board Certified Ophthalmologist from the American Board of Ophthalmology and is a member of the American Academy of Ophthalmology and the New England Ophthalmology Society.
Dr. Thomas provides comprehensive eye care including cataract surgery, medical and laser treatment for glaucoma, regular eye exams and care for eye infections and inflammations, dry eye syndrome, diabetic eye disease, and macular degeneration.