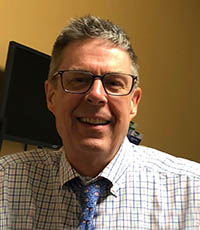 Dr Crawford is a lifelong resident of Massachusetts growing up in Scituate and Weymouth.
Summers in Scituate were the best; sailing, the beach, and tennis made them really fun and memorable.
His initial plan was to become an architect. He attended Northeastern University and majored in Civil Engineering with the goal of doing a graduate degree in Architecture. In his junior year at Northeastern he decided to pursue a career in health care, and after much research and soul searching landed on optometry. He graduated with highest honors from Northeastern University with a BS in Civil Engineering and his Doctor of Optometry degree from the Indiana University School of Optometry.
Clinical training was within the Veterans Administration; the VAMC in Cleveland, Ohio, and the VAMC in Lyons, NJ. These were hospital-based, both medical/surgical and psychiatric training centers.
Dr. Crawford started the full-time Eye Services Department of the Goddard Medical Associates which became part of the Signature Medical Group. He joined the Center for Eye Health 19 years ago on a part-time basis. He has a been provider of primary medical eye care in Brockton for over 30 years.
Dr. Crawford is a fellow of the American Academy of Optometry, a Diplomat of the American Board of Optometry, and is a past member of the national membership services committee of the American Optometric Association.
Dr. Crawford is a lifelong musician/guitar player and has taught guitar and played in multiple musical venues for many years. He enjoys architecture, music study, and running.