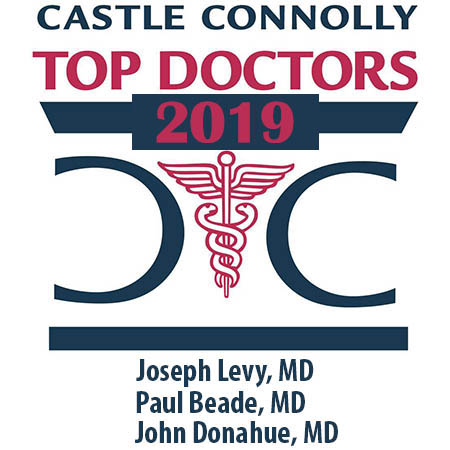 Joseph J. Levy, M.D., M.P.H., John Donahue, M.D., Ph.D. and Paul Beade, M.D., were included in the 2019 America's Top Doctors® list. The three practice ophthalmology here at Truesdale Health.
The 2019 Top Doctors list is a national directory developed by Castle Connolly Medical, Ltd., an independent medical directory organization with a mission of helping consumers locate quality physicians.
The nominees are then evaluated by the company's physician-led team on criteria such as education, training, hospital appointments and disciplinary history. The company's website lists the top doctors in a searchable database. Doctors do not and cannot pay to be included.
Being listed on the America's Top Doctors list reflects a doctor's positive reputation and credentials, providing patients and referring physicians with evidence of quality health care. Marvin D. Berman, M.D., President of Truesdale Health, said, "Bringing great doctors together under one roof is what Truesdale Health is all about. The inclusion of Dr. Levy, Dr. Donahue and Dr. Beade in the Top Doctors list gives people in the Fall River area another indication of the quality of care that they can expect here."